Xuanhui Zhou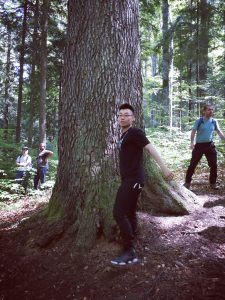 Biography
Erasmus Mundus M.Sc. in Mediterranean Forestry and Natural Resource Management, University of Padova, 09.2018 (start from);
M.Sc. in European Forestry, University of Eastern Finland, 08.2017 – present;
B.Sc. in Agriculture (major in forestry), Northwest Agriculture & Forestry University, 09.2013 – 06.2017.
Research Interests
Currently, I am an international visiting research student from Finland. My study areas include GIS & remote sensing in boreal forests (Nordic countries), spatial statistics with R & Fragstats and watershed management in Mediterranean countries.
My current research interests is landscape ecology and spatial analysis with GIS & statistical tools. I like working on cases to design wood product supply chain and feed stocks transportation route map by GIS tools (ArcGIS & QGIS) and high resolution satellite image.
Also, I like dealing with calculation and analysis of spatial statistics. These statistical interests mainly apply on spatial patterns relationship in landscape ecology, land use and land use change combined with time and climate changes.
Fellowships
Harjoittelutuki vuodelle 2018 tarkoitettu maisterivaiheen metsäylioppilaille, Metsätieteiden osasto, ITÄ-SUOMEN YLIOPISTO (2018 Grant of summer intern for Forestry Master Degree student, School of Forest Science, University of Eastern Finland);
Erasmus Mundus Master program MEDfOR Partner Country Scholarship 2018/2020 (ranking 9th out of  154 applicants).
Contact Info
zhouxuanhui9988@gmail.com
xuanhz@uef.fi
LinkedIn: https://www.linkedin.com/in/xuanhui-zhou-440475147/