Ambassadors to Haida Gwaii / Queen Charlotte Islands : SpotLight on CACR Post-Doctoral Fellow
CACR has a history of attracting exceptional post-doctoral fellows and Dr. Hilary Thorpe (NSERC PDF) is no exception. In addition to her research, Dr. Thorpe has coordinated two recent educational initiatives on Haida Gwaii.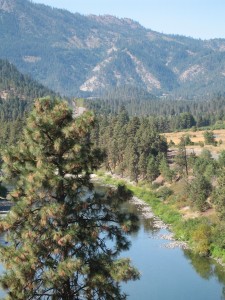 First, members of the Landscape Ecology Lab (Gergel) and the Tree-Ring Lab (Daniels, Geography) hosted a week-long Aerial Photo / Dendrochronology Workshop on Haida Gwaii in Summer 2009. This well-attended workshop for local managers provided training in cutting edge digital air photo techniques, the primary basis for many of the maps used in forest management. The workshop promoted collaborative opportunities among representatives from Haida Mapping, Ministry of Forests & Range, Parks Canada and many other islanders interested in historical ecology and management. The workshop was graciously funded by Environment Canada's Environmental Damages Fund.
Dr. Thorpe also coordinated the first "Haida Gwaii Semester in Natural Resource Studies," an interdisciplinary undergraduate program offered through UBC Forestry by the Haida Gwaii Higher Education Society. The program ran from January to April 2010 and included courses taught by Dr. Thorpe and three other CACR members. Gary Bull and Steven Northway (graduate student) instructed Socio-Economics of Forest-Dependent Communities, and Andy MacKinnon (graduate student, MoFR) taught Rainforest Ecology and Management. Thanks to the efforts of our Associate Dean Peter Marshall, Haida Gwaii Semester students received 15 upper-level credits from UBC. Several students from universities across Canada have since applied to transfer to UBC Forestry following their educational experiences on Haida Gwaii.
Future Events: Training of Global Stewards to Incorporate Local Knowledge
CACR will host an international workshop at the Resilience Centre in Stockholm focused on Incorporating Local Perspectives into Landscape Management. Support from UBC's Teaching and Learning Enhancement Fund will help us develop teaching tools for undergraduates in our Natural Resource Conservation Program. We will be developing a series of global case studies which incorporate and support local and indigenous perspectives on resilience and ecosystem services into our curricula.